Blog for LGBT families day. This is an illustrated lecture, without cuts.

I talk a lot about GLBT parenting around here. It just seems to come naturally.
I am bisexual, passing for straight. I'm married to a man with trans tendencies. My oldest child, Bun, is openly bisexual.

My kids have gone to Gay Pride for three years now. A couple years ago, drag queens were pausing in the parade route to snap pictures of them, all wearing their matching "I [rainbow heart] my family" t-shirts.
In Memphis, this is a tame affair. We, as a community, are very aware that we live in hostile territory and stepping out of the Gay Neighborhood is not a safe act. Those of us who "pass" live elsewhere, but those who are openly gay tend to stay around Cooper-Young.


Bun came out at the age of 13. She's beautiful and brave and has taken no end of grief about her bisexuality from her peers, from school administrators and from shrinks. The one place she's never had to take any is at home.

This is her first Pride: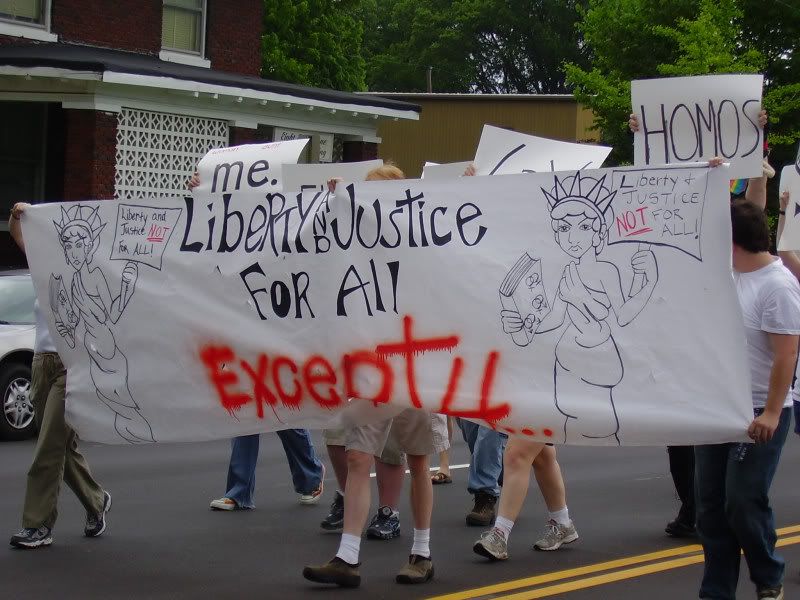 The summer she came out was the Summer of Zach. Her first involvement with the GLBT community was the local youth group. Her second was the Love In Action Protests.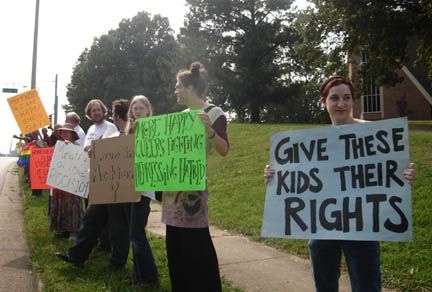 She's the one with the brown sign.


The bearded man near her is my husband, Mudd.

This has been as much a journey for my beloved husband as it has for my daughter. Mudd is a Christian. He was always of the fundamentalist stripe. He dealt with my bisexuality mainly by ignoring it. After all, I was married to him and not seeing women.

Bun's has been harder to ignore since she dates both boys and girls. He has spent the last couple years coming to peace with his daughter and his religion and his own past. He's a card carrying PFLAG member (or will be when he re-ups his dues). And a banner-carrying one. He's marched in the last two Pride parades, carrying one end of the PFLAG banner.

This is Mudd, protesting at the "Love Won Out" conference at Central Church--home of Our Lady of Manifest Destiny (the Statue of Liberty holding the cross).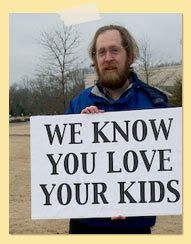 If you don't have Logo, the show documenting this is here:
http://www.logoonline.com/shows/dyn/be_real_2/videos.jhtml
(Mudd turns up around -1.27 of part 5)

The title of my post comes from a comment Bun made. Her shrink, while she was inpatient, had said she could not be gay because she was too young (at 14-15) to have a sexuality. That bisexuality was a phase, either experimentation or hesitation to acknowledge gayness.

Bun looked at the shrink as if she was crazy and said "So when I'm eighteen the Gay Fairy will bonk me on the head and say 'Be fabulous' or the Straight Fairy--but, of course, they don't call him THAT."

At this point the shrink put her on restriction, having never heard that a sense o humor is a sign of an integrated personality. Her dad and I were quite amused at the story.


So where does this leave us?
Protecting an out and proud girl as she makes her way through high school.
Active in the local GLBT community
And waiting and watching, knowing the way will be smoother if the others come out.


This is what a GLBT family looks like--at least when mom's behind the camera and dad is raiding the holiday fudge.